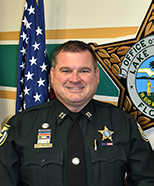 Captain Michael W Marden


Born: Orlando, Florida

Education: Leesburg High School; AS General Studies Columbia College, OH; BS Criminal Justice Columbia College, OH; MS in Justice Administration University of Louisville; Florida Criminal Justice Training Institute's Florida Leadership Academy; Saint Leo University's Command Officer Management School; University of Louisville's Administrative Officers Course Class 129; FBI LEEDA Leadership Trilogy; Leadership Lake County Class of 2017

Career:
Florida Department of Corrections
Correctional Officer: 1995-1997

Lake County Sheriff's Office Corrections
Correctional Officer: 1997-1999

Lake County Sheriff's Office
Deputy Sheriff: 1999-2005

Orange County Sheriff's Office
Deputy Sheriff: 2005-2005

Lake County Sheriff's Office
Captain: 2005-present

Lake County Sheriff's Office
Various assignments as follows: Deputy Sheriff, Dive Team, Bicycle Unit, Traffic Unit, Dive Team, Honor Guard, School Resource, Training Coordinator, Academy Coordinator, Patrol Sergeant, SRD Sergeant, Special Services Lieutenant, Community Engagement Lieutenant.


Captain Michael W Marden
was born in Orlando Florida and moved to Lake County as a toddler. He attended elementary School at Beverly Shores and Dabney; middle school at Oak Park and high school at Leesburg. Soon after graduation Michael joined the ranks of the Florida Department of Corrections beginning his law enforcement career. On his 21st birthday, Michael applied at the Lake County Sheriff's Office and was interviewed that day. Within months he began with LCSO in the Corrections Division. A few years later, after completing the law enforcement crossover training, Michael was transferred to the patrol division.

In 2005 Captain Marden had the misguided vision that "the grass is always greener on the other side of the fence" and left LCSO to join the Orange County Sheriff's Office. Within roughly a month, Michael realized that he was no longer serving "his" community (as he still resided in Leesburg) and didn't feel the family atmosphere he experienced with the Lake County Sheriff's Office. Within 50 days of leaving, Michael rejoined LCSO with a newfound drive to serve "his" community to the best of his ability. Losing a coworker and friend, Deputy Sheriff Wayne Koester, and soon thereafter, a leader, Sheriff Christopher C. Daniels, Sr., Michael learned to focus on the employees, the community, and his family.

Michael serves on the board of the Florida Association of School Resource Officers, president of the Kiwanis Club of Mount Dora, Leadership Lake County Board of Regents, a member of the Lake County Shared Services, and a former member of the Florida Impaired Driver Coalition. He is also an adjunct professor at Lake Sumter State College, adjunct instructor at the Tallahassee Community College, and Saint Petersburg State College. Michael has taught internationally in the school policing arena in El Salvador in their government's attempt at adopting a similar program.

Captain Marden is married to his wife Kristy, since 2008. Kristy serves the Sheriff as the Director of Administration and is the light of his life. She is Michael's biggest cheerleader and his best friend. They have four children together; Sergeant Devon Marden (USMC) who is married to his bride Meghan and with two children, Kolson and Gracie Joe; Lauren Carter who is currently working on her college degree and a supervisor at the Lake County Tax Collector's Office; Clayton Carter who is soon to be a graduate of Tavares High School and pursuing his career in welding; and Bryce Marden who attends Tavares High School. The Marden's enjoy salt-water fishing and scuba diving in the Florida Keys each year as a three generation tradition, family gatherings and vacations.