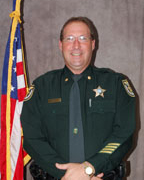 Major David Mass


Education: Associate in Science Degree in Criminal Justice Technology

Career:
Lake County Sheriff's Office
1991-present


Major David Mass
has been employed with Lake County Sheriff's Office since 1991. David currently holds both Corrections and Law Enforcement State Certifications and an Associate in Science Degree in Criminal Justice Technology. David attended the 114th Administrative Officer's Course at the Southern Police Institute in Louisville, Kentucky in 2005.

David is a member of the Triangle Elementary School Advisory Committee, Lake County Public Safety Coordinating Council and the Class of 2009 Leadership of Lake County.

David resides in Leesburg with his wife, Tonya and two daughters.