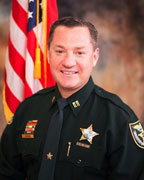 Captain Skott Jensen


Born: Illinois

Education: Waukegan West High School; B.S. Degree in Business and Professional Leadership; B.S.S. Degree in Biblical Studies; Southern Police Institute of Louisville

Career:
Lake County Sheriff's Office
Various assignments: Detention Deputy, Classification Officer, Programs Director, Accreditation Manager, Office of Professional Standards, Training Bureau, and Support Services Bureau: 1993-present


Captain Skott Jensen
began his employment in 1993 with the Lake County Sheriff's Office as a Detention Deputy and is dual-certified in Corrections and Law Enforcement disciplines, allowing him the flexibility to perform many job assignments. Skott has served as a Classification Officer, Programs Director, and Accreditation Manager. He has been a supervisor over the Office of Professional Standards, the Training Bureau, and currently supervises the Support Services Bureau.

While at the detention center, Skott developed two state recognized programs for troubled juveniles and was instrumental in securing the first ever accreditation for the Lake County Sheriff's Office. In addition to his routine duties, he is an assessor with the Commission for Florida Law Enforcement Accreditation and the Florida Corrections Accreditation Commission.

Skott holds a bachelor's degree in Business and Professional Leadership from Southeastern University and another one in Biblical Studies from Jacksonville Theological Seminary. Skott currently holds both Corrections and Law Enforcement State Certifications and is a graduate of the 122nd Administrative Officer's Course of the Southern Police Institute at the University of Louisville.

Skott is an 11 year veteran with the Army and National Guard. Some accolades received for his time in the service include an Army Achievement Award and two Humanitarian Service Medals. He continues humanitarian efforts by going on foreign and domestic mission trips.

In his free time, Skott stays very involved with church and enjoys spending time with his wife and their two children.