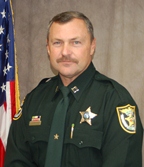 Captain Jack Holder


Born: Perry, FL

Education: Tavares High School; Lake Technical Center; Bachelors Degree in Criminal Justice; Masters Degree in Organizational Management

Career:
Lake County Sheriff's Office
Various assignments: Uniform Patrol, Narcotics Investigation, School Resource Supervisor, Public Information Officer, and a former member of the SWAT Team: 1993-present


Captain Jack Holder
was born in Perry Florida in 1965 and returned to Lake County shortly thereafter. He was adopted by Charles and Polly Holder at the age of 9 months. He attended school in Tavares graduating high school in 1983. Upon graduating he worked various jobs before settling on a law enforcement career. Captain Holder completed his training at the Lake Technical Center in Eustis, Florida and was subsequently hired by the Umatilla Police Department.

Captain Holder worked in Umatilla for 2 1/2 years before being hired by the Board of County Commissioners as a Bailiff. Captain Holder remained a Bailiff for approximately 1 1/2 years assigned to County Court Judge Richard Boylston. Captain Holder left the Lake County Board of County Commissioners for employment at the Lake County Sheriff's Office in 1993. He has worked various job assignments to include Uniform Patrol, Narcotics Investigation, School Resource Supervisor, Public Information Officer, and a former member of the SWAT Team.

Captain Holder has received a Bachelors Degree in Criminal Justice and a Masters Degree in Organizational Management. He is also a graduate from the 107th Administrative Officers Course at the University of Louisville's Southern Police Institute. He is a high Liability instructor in Taser, Defensive Tactics, and CPR/First Aid. Captain Holder also holds many other certificates for numerous hours in Law Enforcement Training and is a Master Mason and a member of the Benevolent and Protective Order of Elks. Captain Holder was the former Vice President of the Tavares Kiwanis, was a former board member of the Child Services Council and a past member of the RFP Committee for the United Way. He continues to sit on the Board of Leadership Lake County, where he once served as board President.