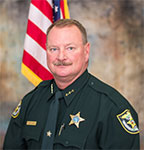 Chief Deputy Jerry K. Craig


Born: Columbia County, FL

Education: Lake City Columbia Senior High School Associate's Degree, Lake City Community College Bachelor's Degree in Criminal Justice, Magna Cum Laude, Saint Leo University Master's Degree in Criminal Justice, Saint Leo University Dual Law Enforcement and Corrections Certification Law Enforcement Command School

Career:
Lake County Sheriff's Office
Chief Deputy: 2016-present

Marion County Sheriff's Office
Various Assignments as follows: Deputy Sheriff, K-9, Bomb Squad, DUI Enforcement, SWAT Team Member, DARE Officer, SWAT Team Commander, Patrol Sergeant, Field Training Officer, Field Training Officer Supervisor, District Lieutenant, Public Information Officer, Patrol Captain, Assistant Bureau Chief of Marion County Jail, Patrol Major, Community Policing Bureau Chief: 1986-2016

Columbia County Sheriff's Office
Deputy Sheriff; 1985-1986, Dispatcher; 1985

United States Air Force
Explosive Ordinance Disposal (EOD): 1981-1985

Baker Correctional Institution
1979-1980


Chief Deputy Jerry K. Craig
was born in Lake City, Florida, and is a graduate of Lake City Columbia Senior High School. He is a United States Air Force Veteran with the following accolades: Military Badge of the United States Air Force, which recognizes those service members qualified as Explosive Ordnance Disposal (EOD) Technicians, Recipient of the Air Force Ribbon, Air Force Overseas (Republic of South Korea) Short Term Ribbon, Air Force Good Conduct Medal, Air Force Achievement Medal with Three (3) Oak Leaf Clusters, Small Arms Marksmanship Ribbon with Bronze Service Star.

Chief Craig was hired at the Columbia County Sheriff's Office as a Dispatcher in 1985. He completed his basic law enforcement training at Lake City Community College, and upon graduation was promoted to a Deputy Sheriff. In 1986, Chief Craig was hired by the Marion County Sheriff's Office as a Patrol Deputy. During his thirty (30) year career at the Marion County Sheriff's Office, he worked in various assignments to include: Uniform Patrol, DUI Task Force, K-9, DARE, Bomb Squad, Bomb Squad Commander, Field Training Officer (FTO), FTO Supervisor, Patrol Sergeant, SWAT Team Member, SWAT Commander, District Lieutenant, Public Information Officer, Fugitive Unit, Patrol Captain, Sector Captain, Assistant Bureau Chief in Corrections, and Community Policing Bureau Chief as a Major.

Chief Craig is married to his wife of 23 years, Cheri and they have a son and two (2) daughters, Jacob, Hannah and Emilee.